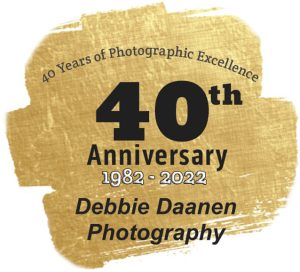 40! That's right, April 1st marks our studio's 40th year in business!
It's what I affectionately refer to as our Work-iversary,  here at Debbie Daanen Photography.  
 I would like to be the first to congratulate my friend, mentor,  and partner in both shenanigans and business.  Debbie Daanen, a very happy
work-iversary… So, this is for you Debbie:   
I've had the privilege to know you and the honor of working alongside you for the last 20 years and those 20 years seem to have flown by. I guess it's true what they say about time flying when you are having fun. 😉
     I was literally just a kid when we met and our friendship grew into a working partnership and now you just feel like family. I don't think anyone, especially not my 17 year old self,  would have expected my Summer job would somehow develop into me running my own business. Thank you for taking me under your wing all those years ago and giving me the opportunity to carry on your business name. I promise to make you proud. 

We've been through just about everything imaginable together, both personally and professionally, good and bad, ridiculous and hilarious and I wouldn't have had it any other way.  
 __________________________________________________
After 40 years, or at least the last 20 that I can speak on, when this day rolls around each year, I really try to celebrate it, especially this year!  40 years! It is not lost on me that the business has been around longer than I have been on this Earth (not to make anyone feel old, haha). Some people may refer to today as a birthday or anniversary, but whatever you call it, it is truly a day to be celebrated and really appreciate how lucky we are to be doing what we love and call it work.  
Believe me when I say, we have more treasured memories and outrageous stories than we can remember and not one of our amazing clients, friends and families has not been part of one of those great nostalgic moments.  
We say it all the time, but no time is more appropriate than today… THANK YOU. 
Thank you to our clients, both old and new. We obviously could not have had continued success all this time without you.  We have loved working with you, whether it was just once for a simple business portrait, or if you have become a regular and we get to see your smiling faces several times a year.  Getting to know your families and capturing your 'little darlings' growing up is, and always has been, a delight.  It is a true pleasure to be creatively serving the community and a great joy to be able to call so many of you friends.  
Thank you for caring not only about our business, but also about us as people. 
Thank you to our friends and family for all those continued years of support.  You have put up with our outrageous work schedules and countless worries and struggles as we live our busy lives as women in the arts and women in business. You all know too well how quickly our schedule fills up, and you still choose to be our friends, even when we can't always participate in all the fun things you invite us to. 
And thank you, of course to our staff, Laurie and Stacey, we literally could not have done it without you.  Thank you for always supporting our wild ideas and being the voice of reason when we dream too big, haha.    
Shout out to our DDP roadcrew,  mainly, Barb, Laura, Kaite and Amy, our collection of friends who have stepped up to assist us when we need the additional staff at any given event.  You've walked this walk along with us in some less than desirable situations and locations and were always there to step up and agree to do whatever insane thing we ask of you.  That level of commitment does not go unappreciated.    
Finally, thank you to all the groups and organizations that we have photographed over the years. There's far too many to list but your continued business and friendship means the world to us.  Some of you have been with us since the very beginning and the confidence and support that you have given us over the years is just a testament to how committed we all are to our craft and success.  We are so thankful for you trusting us as your photographers all these years.  
They say when you love what you do, you never work a day in your life.  I'm not sure that's entirely true, but the last 40 years have taken us to some pretty amazing places and allowed us to meet the most amazing people, and most of that has felt more like fun, than work. 
We love what we do and we've been lucky enough to have been doing it for the last 40 amazing years. I know I speak for Debbie and myself when I say, thank you from the bottom of our hearts for allowing us to grow with you all these years.  Photography is ever changing, as are we and we appreciate you championing us and our studio all these years.
Because this year feels extra special, we are hosting a 40th Anniversary Open House & Customer Appreciation Night in May and would love for all of you to stop by.  Have a drink with us and share a laugh as we celebrate 40 years of Debbie Daanen Photography!  *Details to come.   
Thank you for an amazing last 40 years and thank you for a great work-versary!  Cheers to 40 years and here's too many more! 🙂