February 22, 2018
In
News
The 'Art of Dance' Mini Dance Sessions:
Hello Hello! 🙂
We are excited to be offering these limited edition mini dance sessions to all our dance families!
'The Art of Dance'
A Limited Edition Studio Dance Photography Session
~ Dance ~ Action ~ Motion ~ Emotion ~ Art ~
Beyond Typical Dance Photography
LIMITED TIME ONLY:
Studio photo mini session – $35 (reduced rate)
20% off all studio print pricing
Focus on your dance skills and creating a true piece of art.
Contact the studio for full details and to schedule your session time.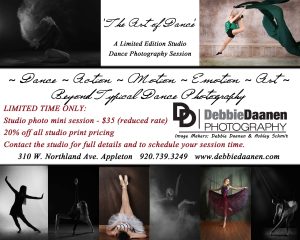 We would love to work with you on creating a fabulous work of art of your talented dancer! 🙂