WE'RE BACK!!! REOPENED!! YAY!
WE'RE BACK!!!
Effective tomorrow morning, we will be back in the studio on LIMITED hours (by appointment only)!
Given Gov. Evers new lightened restrictions, small businesses are allowed to reopen with 5 or less people at a time. YAY!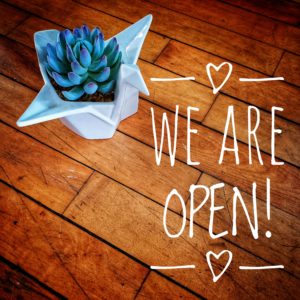 We are going to limit our hours as we get back into the swing of things, so we ask that you contact us in advance if you plan to stop in for a pick up etc. We will be taking appointments for photo sessions, orders and pick ups, to limit the number of people and allow us adequate time to disinfect between clients. We will continue to wear masks as we work and encourage you to do the same. We ask that if you are not coming for a photo session, that you refrain from bringing your little ones with you. Are are taking every precaution to ensure the safety of our clients and staff.
We are excited to be back in action and can't wait to see your smiling eyes (eyes, because your smiles will be covered by masks, haha)!