JOIN US FOR THE Celebration Of Hope 4th Annual CHAIR-ity Auction Fundraiser
Ashley has served on the board of the Celebration of Hope Inc charity for the last 3 years and next Tuesday the 30th, is the big fundraising event… we would love to have you join us!  Check out the chairs that will be up for auction, including the two that Ashley made, here: https://www.celebrationofhopeinc.org/index.php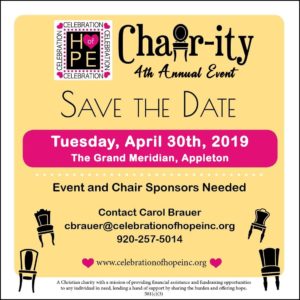 CELEBRATION OF HOPE – 4th Annual CHAIR-ity Fundraiser Event
All funds raised at this annual event go to fund the good works of Celebration of Hope. To learn more about our organization, please visit our website at: https://www.celebrationofhopeinc.org/index.php
________________________________
COH: CHAIR-ITY
TUESDAY, APRIL 30th
At; The Grand Meridian, Appleton
5:00pm – 7:00pm (Doors open at 4:30)
Each year, local artists share their talents with decorating and enhancing unique functional and non-functional CHAIRS! Several styles and themes available. Something for everyone's tastes and for a great cause! Join us!
Enjoy our Mash-tini Bar (Mashed Potato & Topping Bar) and delectable desserts.
Cash bar.
Several auction items and raffle baskets up for grabs. Something for everyone!
Be the high bidder and take home a unique, one of a kind, work of art, chair!
BACK BY POPULAR DEMAND: LIVE WOOD CARVING DEMO by Joe Larsen @larsencrazywood of Larsen Carvings! We are so excited to see what amazing chair creation he creates while we all watch!
Tickets: $30 each
Be sure to log onto our website: https://www.celebrationofhopeinc.org
to vote for your fan favorite chair design!
_______________________________
Celebration of Hope, Inc. is a Christian charity with a mission of providing financial assistance and fundraising opportunities to any individual in need, lending a hand of support by sharing the burden and offering hope.
COH provides limited financial assistance to individuals struggling to meet their basic needs in our local counties. We connect clients to other community resources and reassure clients that people in their lives truly care about them.
We offer hope, one person at a time.
For more information contact Carol Brauer at 920-257-5014 or email [email protected].